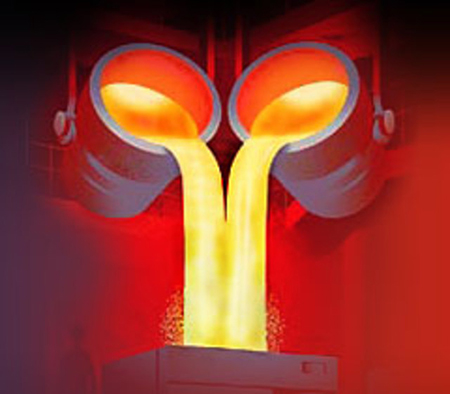 Slag foaming is carried out by simultaneous injection of oxygen and carbon-containing materials into the molten mass. As a result, gas bubbles are formed which cause sponging. Moderate slag foaming, along with the air injection in oxygen converters, has a positive impact on steelmaking process – oxygen uptake and carbon uptake are increased and stabilized; and the barriers are occurred preventing the nitrogen uptaking from the air and unwanted metal leakage from the converter.
Excessive slag foaming is unacceptable because it significantly escalates slag discharging. In some situations, even slight foaming is unwanted, because the foamed slag has low thermal conductivity which affects heat supply from the flame to the metal. That causes overheat of smelt-furnace and accelerates the wearing of lining, which takes all the undigested heat.
The excessive slag foaming can be caused by high concentration of SiO2 and Р2О5, which forms surface active anions РО43- SiO44- increas the foam longevity and stability. Another possible reason of excessive slag foaming - solid particles in the slag mass, which also strengthen physical integrity of foam bubbles (like a carcass).
To prevent the slag from excessive foaming by reason of high concentration of SiO2 and Р2О5, it is necessary to increase slag atomicity by adding into the bath the lime or fluorspar (CaF2) and alkali oxides. Elimination of small particles (the second reason) is usually conducted by increasing of molten metal temperature .